Stryker Rejuvenate Lawyers at Bernstein Liebhard LLP Anticipate Next Case Management Conference in New Jersey Stryker Hip Replacement Litigation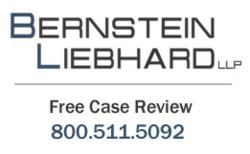 New York, NY (PRWEB) June 07, 2013
Bernstein Liebhard LLP notes an upcoming status conference in the consolidated litigation of Stryker Rejuvenate lawsuit claims currently underway in New Jerseys Bergen County Superior Court.
According to a notice posted on the Courts website, the next Case Management Conference in the proceeding will be held June 18th at 10:00 a.m.* Court documents indicate that there were a total of 161 lawsuits involving the Stryker Rejuvenate and ABG II modular-neck hip stem pending in the litigation as of May 28th. Plaintiffs in these cases allege pain, swelling, loosening of the implant, metallosis and other injuries stemming from the hip replacement device, which was recalled in July 2012 by Stryker Orthopaedics. (In re Stryker Rejuvenate Hip Stem and the ABG II Modular Hip Stem Litigation, No. 296)
As we hear from patients fitted with implants affected by the Stryker hip recall, we are not surprised to see the number of lawsuits filed in this Multicounty Litigation continuing to grow, says Bernstein Liebhard LLP, a nationwide law firm representing the victims of defective drugs and medical devices. The Firm is actively filing claims on behalf of individuals allegedly injured by the Stryker Rejuvenate and ABG II modular-neck hip stems.
Stryker Rejuvenate Recall

Stryker Orthopaedics voluntarily recalled its Rejuvenate and ABG II hip stems on July 6, 2012 after company data revealed the potential for their metal components to fret and corrode at the modular-neck junction. In turn, the manufacturer said patients may suffer pain and other adverse tissue reactions indicating early hip failure. In the wake of the Stryker hip recall, the manufacturer has advised recipients of its Rejuvenate and ABG II devices to undergo cross sectional imaging and blood tests for elevated metal ion levels, whether or not they are experiencing symptoms.** Stryker has also since partnered with third-party claims administrator, Broadspire Services Inc. to work directly with patients seeking reimbursement for out-of-pocket expenses related to the recall.*** Bernstein Liebhard LLP has advised that patients considering participation in the Broadspire Stryker claims program speak with a lawyer prior to disclosing any information with a Broadspire representative, however, as it may be later used as evidence in a Stryker hip replacement lawsuit.
At the federal court level, plaintiffs in Stryker Rejuvenate lawsuits are waiting to find out if their cases will be consolidated in a multidistrict litigation. On May 30th, 2013, the U.S. Judicial Panel on Multidistrict Litigation heard Oral Arguments on the matter, but has not announced a decision regarding the creation of a MDL for federally-filed Stryker Rejuvenate lawsuits. These cases are currently pending in federal jurisdictions throughout the U.S. (In Re: Stryker Rejuvenate and ABG II Hip Implant Products Liability Litigation, Case Pending No. 20 (JPML))
Patients allegedly injured as a result of being implanted with the Stryker Rejuvenate or ABG II modular-neck stem may be eligible to receive compensation for medical expenses, lost wages, pain and suffering and other damages. Find out more about how to file a lawsuit by visiting Bernstein Liebhard LLPs website. To speak with one of the Firms Stryker hip replacement lawyers directly, please call 800-511-5092.
*judiciary.state.nj.us/mass-tort/abgstryker/calendar.htm

**literature.ortho.stryker.com/files/REJUV_COM_23.pdf

***literature.ortho.stryker.com/files/REJUV_COM_22.pdf
About Bernstein Liebhard LLP

Bernstein Liebhard LLP is a New York-based law firm exclusively representing injured persons in complex individual and class action lawsuits nationwide since 1993, including those who have been harmed by dangerous drugs, defective medical devices and consumer products. The firm has been named by The National Law Journal to the Plaintiffs Hot List, recognizing the top plaintiffs firms in the country, for the past 10 consecutive years.
Bernstein Liebhard LLP

10 East 40th Street

New York, New York 10016

800-511-5092.
ATTORNEY ADVERTISING.